DEFINITY® Has a Proven Safety Profile Across Broad Patient Populations and in Multiple Care Settings1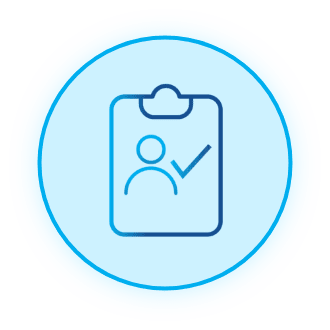 DEFINITY® has a proven impact on reducing mortality risk in hospitalized and critically ill patients2,3
Case-Based Review of Clinical Safety: Contrast Echocardiography in the Acute Critical Care Setting
---
Eyal Herzog, MD shows how the appropriate use of DEFINITY® assisted in achieving quality diagnostic imaging in critically ill patients with suboptimal echocardiograms
---
Reduction in Mortality Risk
DEFINITY® WAS ASSOCIATED WITH A
28%
lower mortality at 48 hours in critically ill patients2
24%
decreased risk of mortality at 24 hours in hospitalized patients3
DEFINITY® is demonstrated to be safe in patients with high prevalence of cardiopulmonary disease and pulmonary hypertension4-6
References:
DEFINITY® [package insert]. N. Billerica, MA: Lantheus Medical Imaging, Inc.

Main ML, Ryan AC, Davis TE, Albano MP, Kusnetzky LL, Hibberd M. Acute mortality in hospitalized patients undergoing echocardiography with and without an ultrasound contrast agent (multicenter registry results in 4,300,966 consecutive patients). Am J Cardiol. 2008;102(12):1742-1746.

Main ML, Hibberd MG, Ryan A, Lowe TJ, Miller P, Bhat G. Acute mortality in critically ill patients undergoing echocardiography with or without an ultrasound contrast agent. JACC Cardiovasc Imaging. 2014;7(1):40-48.

Wei K, Main ML, Lang RM, et al. The effect of Definity on systemic and pulmonary hemodynamics in patients. J Am Soc Echocardiogr. 2012;25(5):584-588.

Wever-Pinzon O, Suma V, Ahuja A, et al. Safety of echocardiographic contrast in hospitalized patients with pulmonary hypertension: a multi-center study. Eur Heart J Cardiovasc Imaging. 2012;13(10):857-862.

Weiss RJ, Ahmad M, Villanueva F, et al. CaRES (Contrast Echocardiography Registry for Safety Surveillance): a prospective multicenter study to evaluate the safety of the ultrasound contrast agent definity in clinical practice. J Am Soc Echocardiogr. 2012;25(7):790-795.